Welcome to My Page


THESE ARE PICS OF MYSELF IN MY TRAIL OF TEARS DRESS AND MY SONS JOE AND JOHN
Me and my boys



My name is Lynn Johnston. I am a beader, an artist and an herbalist
gardener. I am a genealogist and in training to become certified.

I am proud of my Cherokee heritage and participate in many NA events in
the MidSouth.

My beadwork and painting have the Native American theme. I did some of
the beadwork on the "96" Memphis Powwow Princess's regalia. I sold my
first painting last summer, on PBS television. I belong to the Millington
Native American Art Council. I, also belong to the Crittenden County
Art Council in West Memphis, AR. 

I have over twenty years of experience in gardening.
I wrote a garden column in a local newspaper and I have written a booklet
on gardening. If you would be interested in ordering my booklet, "How 
To Make An Extra Income, From Your Backyard", please contact me by E-mail.
Put in Subject:garden book. I am selling these for 19.95, plus 4.95
shipping.



This is some of my Art and Beadwork.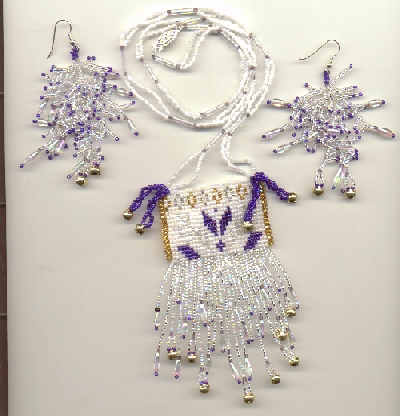 My secret x-mas pal gift

Lighter Cover
A lighter cover made for my husband's birthday.

Bear Necklace
This was a gift for a Cherokee friend. It is made to go with her Native American regalia. The pattern is from "Beads to Buckskin" it is a loom pattern, but I did this piece with off loom weaving. My mom made the beaded fan, for her, which is at "Marylyn's Beadworks" link below.

Painted Eagle Totebag
This was a commissioned piece done on a Cherokee "tote bag". It is done in acrylics on copper-tanned buckskin.

Hummingbird Pouch
This is a personal medicine pouch,it's origin is Cherokee. The hummingbird is handpainted in acrylics.It is my own design.

Waterbird Watch Fob
The watch fob is attached to my grandfather's pocket watch, This has been sold.



Designs by LYNN JOHNSTON ©1997
Links to My Pages
Lynn's Surnames (My paternal side): Letson, Sparks, Reeves, Gooden/Goodmon/Goodman, Johnston, Sellers
Native American site: MidSouth Powwows
Marylyn's Beadworks: My mom's beadwork site
WHITE JAY BEADERY: Visit our new ONLINE BEAD STORE!!!
meiwei's homepage! (my maternal surnames): Etheridge, Hallum, Branch, Howard, Chaffin, Basham, Canute, Taliaferro, Nobles, Owens, Warden



The "Distant Healing Network" Page



Lynn Johnston
E-Mail
Memphis, TN
United States


<!c- begin beadthing ring fragment>

<!c- end beadthing ring fragment>